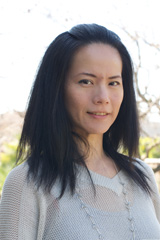 Kaile is a California Board Licensed Acupuncturist and Herbalist. She earned her Master's degree in Chinese Medicine from Five Branches University. She is also a MBSR meditation facilitator.
Kaile treats patients of all ages and specializes in treating hypertension, diabetes, depression and stress reduction. Kaile has worked closely with cancer patients who deal with complications after chemo therapy such as nausea, vomiting and fatigue. Both her parents are cancer survivors and still undergoing treatments so she is familiar with the side effects and the emotional stress for both the patients and their families.
As part of the treatment, Kaile also teaches meditation. Being a MBSR meditation facilitator for stress reduction, she believes daily meditation routine combined with acupuncture treatment can reduce stress, help boost immune system and speed up the recoveries from traumatic medical treatments.
On the weekend, Kaile enjoys spending time with friends and families with delicious feasts, great conversations and laughs.
To learn more, visit Light & Joy Acupuncture website!